Although the central part of the country is some distance from an ocean,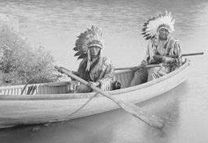 people still enjoy access to water by boat. Rivers and lakes offer a means of travel and transportation, acquiring food, recreation, and maybe a little canoodling. Canoes were developed by Native Americans and used for thousands of years. Although the first ones were dugout of tree trunks, later ones featured tree bark over frames. The framed variety worked best for the rivers, streams and lakes in North America, as in the John Anderson photograph at left from the late 1800s of two Brule Sioux,
Hollow Horn Bear and Stands and Looks Back,
paddling on a river (
Nebraska State Historical Society Collection
).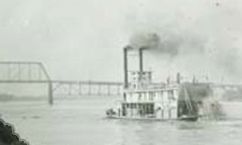 Lewis and Clark's Expedition of 1804-1806 to explore the territory acquired with the Louisiana Purchase began on keelboat up the Missouri River which also forms the eastern border of Nebraska. A little over one hundred years later, the United States Army Corps of Engineers steamboat,
Lieutenant Lewis
, (right) plied the same river (
Omaha Public Library Collection
). In addition to surveying and exploration, boats moved people and goods more quickly than horse or oxen and wagon for many decades.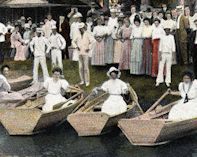 The shifting of the Missouri River after the flood of 1877 created a curved lake and the opportunity of additional recreation for the locals. The Rod and Gun Club of Omaha used the lake, known as Lake Nakoma at the time the postcard at left was created. As shown in the
postcard,
members were not limited to men–women are ready at the oars of the rowboats on the water. The lake, later renamed Carter Lake for the family donating funds to establish a city park on the lake, also saw craft such as canoes and sailboats like the ones below
sailing in the moonlight
 (both postcards from the Omaha Public Library Collection).
Boats are at times required for more serious duty. Many of the rivers in Nebraska are not very deep, so heavy rains or run-off from an extra deep snowpack melting in mountains to the west can cause flooding across the plains. In such cases, like the
flood in Erickson, Nebraska
 at right, required boats to navigate the streets (Nebraska State Historical Society Collection). Other images of
canoes
,
rowboats
, and
sailboats
can be found in Nebraska Memories. Visit
Nebraska Memories
to search or browse for more advertising materials or other historical images digitized from photographs, negatives, postcards, maps, lantern slides, books and various materials. Nebraska Memories is a cooperative project to digitize Nebraska-related historical and cultural heritage materials and make them available to researchers of all ages via the Internet. Nebraska Memories is brought to you by the Nebraska Library Commission. If your institution is interested in participating in Nebraska Memories, see
http://nlc.nebraska.gov/nebraskamemories/participation.aspx
for more information, or contact
Devra Dragos
, Technology & Access Services Director.