Any good marketer will tell you that you need to continually put your product or
service in front of people to make a sale. Today we are bombarded on all sides with commercials and advertising. But years ago there wasn't such a wide range of media, so how did businesses reach their prospective customers? For some businesses that meant going beyond putting the name of their business on the front of their buildings to spelling out their products on signs meant to catch people's attention. The Pioneer Drug Store spelled out their interesting combination of products–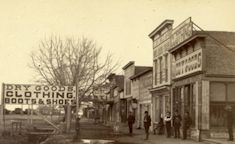 DRUGS PAINTS OILS GLASS AND WALLPAPER–on the side of the building in the photograph at left. (
South side of Front Street looking east from Chestnut Street,
Sidney, Nebraska
;
Cheyenne County Historical Society and Museum Collection
) Down the street, Adam Ickes' Dry Goods Store positioned a sign perpendicular to the street that could be easily read by passersby, at right. (
Front Street, Sidney, Nebraska
)
Signage advanced to individual letters attached to buildings as in the picture at right with Glidden Paints capitalizing on their corner position by spelling out their name on two sides of the building. And if you have space on the roof, why not lease it to someone else–like Budweiser–for advertising? (
Exterior of Glidden Paints Building
, The Durham Museum Collection)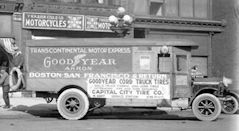 Mobile advertising works well, too. Capitol City Tire Company's truck at left advertises the brand of tires they carried (
Capitol City Tire Company
;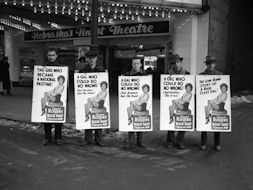 Townsend Studio Collection). And what could be more eye-catching than a group of men walking the street in sandwich board signs promoting the movie
Roxie Hart
with a pretty Ginger Rogers at right? (
Men wearing signs advertising movie
;
The Durham Museum Collection
)
But what could be better than advertising that a person takes home with them? Use a picture of a cute dog and who wouldn't want to try out the Denver Chop House Restaurant? (
Denver Chop House Restaurant doggie
,
Omaha Public Library collection
) Or if a pretty Gibson-style lady is more to your taste, perhaps you would have hung the calendar plate given out by a Papillion bank. (
Banking House of A.W. Clarke 1909 calendar plate
,
Sarpy County Historical Museum Collection
)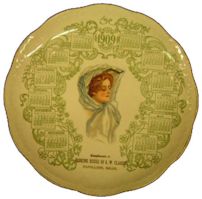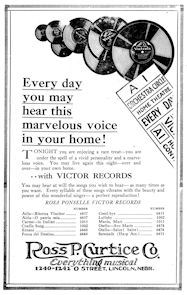 Targeted advertising can be very profitable. If you attended the Efrem Zimbalist concert in 1919, your program contained an advertisement encouraging you to purchase a Victrola from Ross P. Curtice Co. so that "Zimbalist will play for you in your own home." (
Great artist course: Efrem Zimbalist
;
Polley Music Library Collection
) Or if you attended the Rosa Ponselle concert a few seasons later, your program listed the Victor Records containing her songs also available at Ross P. Curtice Co. (
Great artist course presenting Miss Rosa Ponselle
, Polley Music Library Collection) Visit
Nebraska Memories
to search or browse for more advertising materials or other historical images digitized from photographs, negatives, postcards, maps, lantern slides, books and various materials. Nebraska Memories is a cooperative project to digitize Nebraska-related historical and cultural heritage materials and make them available to researchers of all ages via the Internet. Nebraska Memories is brought to you by the Nebraska Library Commission. If your institution is interested in participating in Nebraska Memories, see
http://nlc.nebraska.gov/nebraskamemories/participation.aspx
for more information, or contact
Devra Dragos
, Technology & Access Services Director.