In my blog post last week I talked about Nebraska 125 years ago and want to continue with that topic. This week we will take a look at the towns of Fremont, Brainard, Fairmont, Bertrand and Sidney.
Fremont was still a relatively small town with a population of just 1,195. It 1890 it was only 19 years old as it was founded in 1871. Looking at the photo of the Zach Shed residence however it appears that they had some very nice looking houses in town at that time. The Shed residence is ornate as it was built in the Gothic Revival style. While the streets appear to be dirt, the sidewalk surrounding the house is wood. The wood sidewalks even appear to continue across the street.
Brainard is just a few years younger than Fremont as it was settled in 1878. The population of Brainard appears to have remained fairly steady over time. In 1890 the population was 306. According to the 2010 Census the population of Brainard was 330. The Smersh Hardware store was established in town on 1884 by Jakub Smersh. While we don't know the names of the gentlemen standing in front of the store, I would like to think one of the nicely dressed men in a suit, tie and hat is Jakub.
The town of Fairmont appears to have been prosperous in 1890 as it was able to support the Price elevator. At the time the population of town was 1,029. According to the note of the photo the Price elevator stood on the site of the present day elevator in town. The Farmers Cooperative Association purchased the elevator in 1919.
The 1890 photo of Eichelberger store on Main Street, Bertrand, Nebraska provides us with a great view of downtown. For a town of just 265 people it appears to have a large and active main street.
Rose Street in Sidney also appears to be very busy in 1890. Sidney is the oldest of the five towns I've mentioned. It was founded in 1867. Looking at the picture of the west side of Rose Street you can see many different types of businesses including multiple grocery stores, a restaurant, arcade, and a meat market.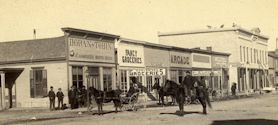 You could even stop in to Doran & Tobin for a beer as their sign clearly states that they are "agents for Anheuser Busch Beer".
I hope you enjoyed seeing what Nebraska was like 125 years ago. Visit Nebraska Memories to search for or browse through many more historical images digitized from photographs, negatives, postcards, maps, lantern slides, books and other materials.
Nebraska Memories is a cooperative project to digitize Nebraska-related historical and cultural heritage materials and make them available to researchers of all ages via the Internet. Nebraska Memories is brought to you by the Nebraska Library Commission. If your institution is interested in participating in Nebraska Memories, see http://nlc.nebraska.gov/nebraskamemories/participation.aspx for more information, contact Devra Dragos, Technology & Access Services Director.