Are your paper archives crumbling? Are your photographs fading? Now may be the time to plan for preservation, and digitization is one of the best ways to preserve your historical materials.
Digital versions of items provide access to content while limiting the handling of delicate materials. The lantern slide of the
Van Fleet Teachers College
(
Nebraska Wesleyan University Collection
) to the left has a crack down the right side which, while not readily obvious in the digital image, could become worse if the slide is handled regularly. The 1887
Letter from John Q. Goss and H.M. O'Neal to Major Butler
(
Sarpy County Historical Museum Collection
) below has creases from folds that could eventually crack or tear.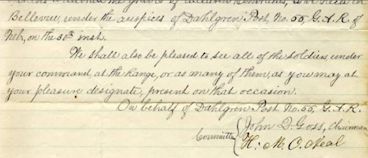 Some items may disintegrate for other reasons such as chemical reactions within the structure of the material or a poor storage environment. The acetate negative of
Lena Carveth and Ernest F. Carveth
(
Townsend Studio Collection
) below is an example of deterioration due to a chemical reaction. Nitrate negatives are even more unstable; as the chemicals in the negatives decay, they become highly flammable and require very specific storage conditions. Before these items disappear forever, consider scanning them according to archival standards.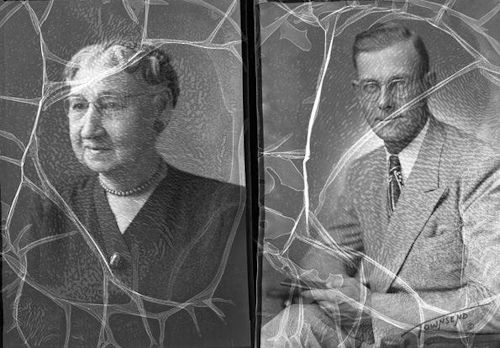 If you are wondering where to start with preservation, check out the Nebraska Library Commission's
Preservation of Library Materials
list of resources. You will find guidelines and tips on the care and preservation of many different types of materials. And remember, if you do plan to digitize any materials, Nebraska Memories hosts Nebraska-related materials for web access and Library Commission staff may be contacted for consultation. Nebraska Memories is a cooperative project to digitize Nebraska-related historical and cultural heritage materials and make them available to researchers of all ages via the Internet. Nebraska Memories is brought to you by the Nebraska Library Commission. If your institution is interested in participating in Nebraska Memories, see
http://nlc.nebraska.gov/nebraskamemories/participation.aspx
for more information, or contact
Devra Dragos
, Technology & Access Services Director.