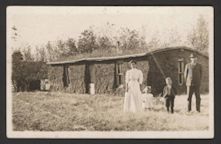 Shelter is one of the most important requirements for people living in a harsh environment. Even though we have been enjoying warm fall weather here in Nebraska recently, temperatures will soon drop and snow will fall and the wind will howl at times during the winter. The first homesteaders settling the prairies didn't always have much to work with in constructing their homes. A number of them used the sod that lay under their feet, cut and stacked into walls. Sod houses provided protection from the sun, wind, and other natural elements; however, residents sometimes wound up sharing the space with more critters than they would have preferred. Some sod houses were used for many years, into the early 1900s, like this sod house belonging to Ben Miller and his family (
Ben Miller family outside of sod house
,
Nebraska State Historical Society Collection
).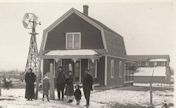 As years went by and their farms became prosperous, families could afford the cost of lumber to build new houses. The farm family in the picture to the right lived in a snug wooden house with a gambrel roof. It does appear that the house is somewhat smaller than the barn in the background, but the barn protected their sources of income (
Family in front of wooden house
, Nebraska State Historical Society).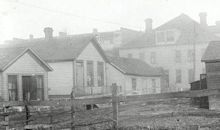 Those families moving west looking for a new life in a larger town, may have wound up in housing such as that to the right. Tenements were built in Omaha in the early 1900s to house not only poor people moving from the east but also immigrants from overseas just as tenements were being built in larger cities such as New York City and Chicago (
Tenement houses and alley
,
Omaha Public Library Collection
).
Nebraska residents who made their money quickly often built homes to reflec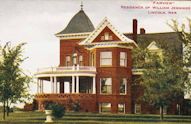 t their wealth.
O.M. Carter's residence
to the left was built with wood in the Queen Anne-style of the time.
"Fairview", residence of William Jennings Bryan
 at the right, also built in a style popular in the United States at the time, was constructed of brick. (Both images from Omaha Public Library Collection.)
Some homes were even more grandiose. Westfield Acres in Fremont, N
ebraska, to the left, was designed by Alfred C. Class of Ferry and Clas, architects of the 1893 World's Fair (
Westfield Acres, east elevation
,
Dodge County Historical Society Collection
). Joslyn Castle, as its name suggests, was designed along the lines of a European estate house
(Geo. A. Joslyn Residence, 39th & Davenport, Omaha, Neb.
, Omaha Public Library Collection).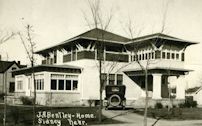 As time passed and other design styles became popular, examples of those homes were also built across Nebraska. J. A. Bentley's home in Sidney, to the right, is a nice example of the Prairie-style house (
J.A. Bentley home, Sidney, Nebr.
,
Cheyenne County
Historical Society and Museum
). Floyd Nichols' home, at the left, is a unique style of architechture for Nebraska and still stands in David City (
Floyd Nichols home
,
Butler County Gallery Collection
). Browse other exterior pictures of
homes
in Nebraska at Nebraska Memories. Visit
Nebraska Memories
to search for or browse through many more historical images digitized from photographs, negatives, postcards, maps, lantern slides, books and other materials. Nebraska Memories is a cooperative project to digitize Nebraska-related historical and cultural heritage materials and make them available to researchers of all ages via the Internet. Nebraska Memories is brought to you by the Nebraska Library Commission. If your institution is interested in participating in Nebraska Memories, see
http://nlc.nebraska.gov/nebraskamemories/participation.aspx
for more information, or contact
Beth Goble
, Historical Projects Librarian, or
Devra Dragos
, Technology & Access Services Director.