The group performing on the corner a block away for the Friday lunch hour, as I work on this blog post, not only reinforces the fact that everyone has their own taste in music and preference for a "beat" but also the importance of music to humans. Music has played a big part in Nebraska's cultural history; in
Nebraska Memories
, you can browse through our new category of
Musical Performers
which includes photographic images people of different times, ages, and backgrounds.
Some student musicians like young
Madessa Wolfe
, far left, (Harvey L. Boston,
Butler County Gallery Collection
) enjoyed private music lessons while others learned to play in school bands–high school or college like the
1917 Nebraska Normal College Band
, above center, (
Wayne State College Collection
). Faculty at the University School of Music in Lincoln, such as
Carl Steckelberg
, above right, (
Polley Music Library Collection)
not only taught music but also performed regularly.
Outside of school, bands and orchestras were formed by families, friends, and church and community members. Some were amateurs while others were professional like this
Orchestra featuring all male African American musicians
, at left (William Wentworth,
The Durham Museum Collection
). For a time, performers the 
bell ringers
to the left (Alva C. Townsend,
Townsend Studio Collection
) could be booked through the Chautauqua.

Performers made music outdoors in
bandstands
, fields, parades or on a makeshift stage as in the photo to the right, of a
man, boy and girl
(John Nelson,
Nebraska State Historical Society Collection
). Indoor venues included school stages, auditoriums, churches, ball rooms, concert halls, opera houses, prisoner of war camps, orphanages and other institutions.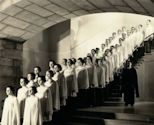 Choirs also played an important role in the musical scene. The
Great Cathedral Choir
shown here in the State Capitol (
Polley Music Library Collection
) performed regularly in Lincoln starting in 1919. Singers also played parts on stage in musicals or took part in concerts. The Polley Music Library Collection includes many
concert programs
featuring visiting and local performers.

So, whether you prefer an indoor or outdoor performance, a formal orchestra or the beat of a single drummer like
Chief Bear Dog
(John Anderson,
Nebraska State Historical Society Collection
), take a look at the items representing the rich musical history of Nebraska. Visit
Nebraska Memories
to search for or browse through many more historical images digitized from photographs, negatives, postcards, maps, lantern slides, books and other materials. Nebraska Memories is a cooperative project to digitize Nebraska-related historical and cultural heritage materials and make them available to researchers of all ages via the Internet. Nebraska Memories is brought to you by the Nebraska Library Commission. If your institution is interested in participating in Nebraska Memories, see
http://nlc.nebraska.gov/nebraskamemories/participation.aspx
for more information, or contact
Beth Goble
, Historical Projects Librarian, or
Devra Dragos
, Technology & Access Services Director.