Football! It is a unanimously accepted fact that Nebraskans are crazy about football, especially University of Nebraska football. Similarly to the three ghosts in Charles Dickens' "A Christmas Carol," we are aware of Football Present : an 8-4 record for the current season, plus a bowl game, and we speculate about Football Future : next year's team roster, coaches and opponents. But today, like that first ghost in Dickens' story, I would like to revisit Football Past, as found in Nebraska Memories.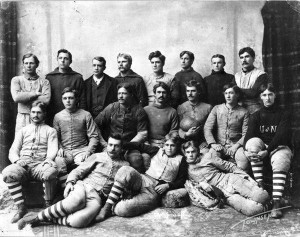 A University of Nebraska team first played football in 1890. In 1894, with a 7-2 season, the team won the conference championship. The picture to the right is of the 1894 team, and the man in the suit may be Frank Crawford, the first paid football coach (for the 1893 and 1894 seasons) at the University of Nebraska. This is just one of many  historic football team pictures you can find in Nebraska Memories, and not just for the University of Nebraska. There are also pictures from the Nebraska State Normal School at Kearney, the David City High School football team,  Wayne State College football, and the Nebraska School for the Deaf, just to name a few.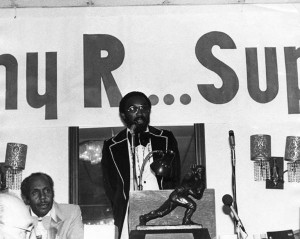 Another place in Nebraska Memories on our journey to Football Past, are pictures of outstanding individuals associated with football in Nebraska.  For example, there are pictures of former University of Nebraska players Johnny Rodgers and Mike Rozier.
Rodgers and Roziers were both winners of the Heisman Trophy: Rodgers in 1972, and Rozier in 1983.  Other names, like Jack Best and Charles B. Washington, might be of interest as well.
And last but not least, our look at Football Past wouldn't be complete without pictures of the fans, as evidenced by the picture below of a group of lovely ladies in 1915!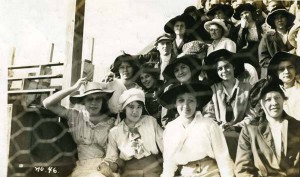 So as you can see, Nebraska Memories has many links to our visit to Football Past. Visit Nebraska Memories to search for or browse through these and many more historical images digitized from photographs, negatives, postcards, maps, lantern slides, books and other materials.
Nebraska Memories is a cooperative project to digitize Nebraska-related historical and cultural heritage materials and make them available to researchers of all ages via the Internet. Nebraska Memories is brought to you by the Nebraska Library Commission. If your institution is interested in participating in Nebraska Memories, see Nebraska Memories Participation for more information, or contact Beth Goble, Historical Projects Librarian, or Devra Dragos, Technology & Access Services Director.