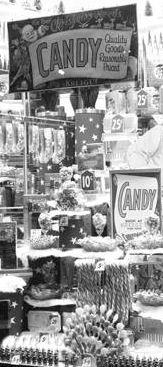 With the holiday season just around the corner I thought it would be the perfect time to do a bit of window shopping in Nebraska Memories. While I'm not sure all of the items on display would be the best option for gift giving it is still fun to look.
Let's start our window shopping in Omaha at the S.S. Kresge Store. While I don't know for sure I believe these two photos of window displays were taken at the Kresge store in downtown Omaha at the corner of 16th and Harney.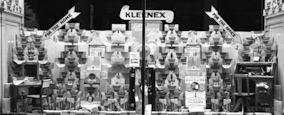 The Window display of candy includes candy canes, lollypops, and boxes of candy. The other photo taken at the Kresge Store is of a Kleenex window display. This photo from 1938 shows that Kleenex are good for both the home and the office.

It looks like in 1937 grocery stores liked to display their canned goods by stacking them in the form of pyramids. This can be seen in two photos of grocery stores in Omaha. In the picture of the Saratoga Grocery and Meat Co. they are advertising a canned food sale in the window and have many can pyramids on display.

The I.W. Rosenblatt Food Store also has an impressive display of canned items on display in their window. Their mammoth canned food sale includes peas, corn, apricots, kraut and Pet milk.
Today the thought of having a one cent sale seems unlikely but in 1931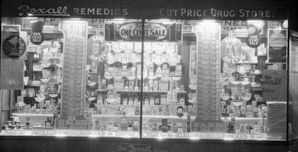 the Harley Drug located at 1101 O Street in Lincoln had a huge once cent sale. The window display shows numerous items along with two large signs shaped as the number one that appear to list a number of items for sale.
The last window on my window shopping trip is that of the Capitol Hardware that was located at 1447 O Street, Lincoln in 1946. Their window is full of Sunbeam electrical appliances. The display includes waffle baker, toaster, Mixmaster, iron (for $9.95), razor (for $15.90). A sign also states that "the Sunbeam Man" will be in the store all day Saturday!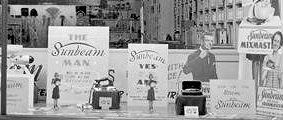 I hope you enjoyed our window shopping trip in Nebraska Memories. We didn't see all of the window displays today so there are more to see in Nebraska Memories.
Visit Nebraska Memories to search for or browse through many more historical images digitized from photographs, negatives, postcards, maps, lantern slides, books and other materials.
Nebraska Memories is a cooperative project to digitize Nebraska-related historical and cultural heritage materials and make them available to researchers of all ages via the Internet. Nebraska Memories is brought to you by the Nebraska Library Commission. If your institution is interested in participating in Nebraska Memories, see http://nlc.nebraska.gov/nebraskamemories/participation.aspx for more information, or contact Beth Goble, Historical Projects Librarian, or Devra Dragos, Technology & Access Services Director.