It's that time of year again when students are preparing to head back to college. Looking at the photos of two Union College dorm rooms from the early 1900's I'm guessing it took those students a lot less time to move into their dorm rooms then it does for students today. This 1907 picture of a Union College dorm room shows two men dressed in suits and ties sitting at a table studying. The room is simply furnished with a bed, table, nigh stand and wardrobe. The wardrobe is covered with knickknacks and photos. A guitar, lute mandolin and banjo are sitting next to the window.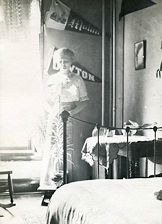 The women's dorm room in this picture from 1911 or 1912 is also simply furnished with a bed, table and rocking chair. The walls are decorated with variety of pennants. The young woman in the photo is wearing a dress and is standing behind a potted plant.
I find it interesting to look at the different styles of buildings that were used as dormitories and how they differ from campus to campus and have changed over the years. The photo of Green Terrace Hall is the oldest photo of a dormitory included in Nebraska Memories. Green Terrace Hall was a women's dormitory at Nebraska State Normal School at Kearney.

The picture is dated July 10, 1903 and shows a large building that contained 74 rooms, 16 halls, 40 closets, 6 bathrooms, 4 toilet rooms with basins, 8 water closets and 4 kitchen sinks. According to the note included in the record this dorm earned the nickname of "Cockroach Castle" sometime before it was demolished in 1959-1960.

East Hall and South Hall were located on the campus of Union College in 1911-1912. I think both of these dorms had a bit more of a homey look to them because of the large covered front porches on both structures. Like the Green Terrace Hall the East Hall also received a couple of nicknames over the years.

The students living in the dorm called it the "White House" while other students referred to it as the "Cracker Box."
The first high-rise residences hall that was built on Wayne State College's campus was built in 1965. In this picture you can see Bowen Hall during the construction process. According to Wayne State College's website Bowen Hall is still being used today as a residence hall. The most recent photo of a dormitory that can be found in Nebraska Memories is that of Centennial Hall. Centennial Hall is located on campus of Nebraska Wesleyan University. The photo was taken sometime between 1967 and 1971. According the Nebraska Wesleyan's website Bowen Hall is also still being used today.
Visit Nebraska Memories to search for or browse through many more historical images digitized from photographs, negatives, postcards, maps, lantern slides, books and other materials.
Nebraska Memories is a cooperative project to digitize Nebraska-related historical and cultural heritage materials and make them available to researchers of all ages via the Internet. Nebraska Memories is brought to you by the Nebraska Library Commission. If your institution is interested in participating in Nebraska Memories, see http://nlc.nebraska.gov/nebraskamemories/participation.aspx for more information, or contact Beth Goble, Historical Projects Librarian, or Devra Dragos, Technology & Access Services Director.