This weekend while reading the paper I ran across an article – "The Blizzard of 1888 — the force of a white hurricane — hit 125 years ago" – about the blizzard of January 12, 1888. The blizzard took many people by surprise because the day started out relatively warm before the storm moved in. The storm hit while many children were at school causing many students to be stranded at school or they struggled to get home during the storm. Because of these struggles the blizzard became known as the Children's Blizzard. Across the Great Plains 235 people, including a number of children, perished in the storm.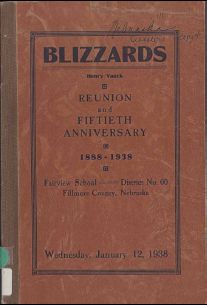 On January 12, 1938, fifty years after the blizzard, students of the Fairview School, in Fillmore County, Nebraska got together for a reunion. A record of the reunion can be found in the self-published book: Blizzards: reunion and fiftieth anniversary, 1888-1938. The complete text of this book is available in Nebraska Memories at: http://memories.ne.gov/u?/hpl,0
Part of the books contains what is described as "Letters and Life Sketches of Schoolmates". These are letters written by the former students tell what they remember of the storm an update of what has happened in their lives over the past 50 years. Frank J. Stephenson was the teacher at the Fairview School in 1988. In one of his letters he wrote the following: "… the event of the blizzard I remember in detail. The warm pleasant snow falling to an unusual depth, then about 2 o'clock a noise outside as of rushing animals. A glance at the windows already darkening revealed the cause. Then one window began to give away before the pressure. You boys helped prop a bench against it to hold it in place. Then to overcome panic we had a "Chinese School," everybody studying at the top of this voice. When we tired of this several of us went out and carried in a vast store of coal to last the night. Then two farmers drove their teams to the school house for most of the children, and I know I spent the night at August Stalldorf's near the corner…. I recall that my sister tied her pupils together and led them to a nearby farm house."
To read this book or learn more about Nebraska's history visit Nebraska Memories and search for or browse through many more historical images digitized from photographs, negatives, postcards, maps, lantern slides, books and other materials.
Nebraska Memories is a cooperative project to digitize Nebraska-related historical and cultural heritage materials and make them available to researchers of all ages via the Internet. Nebraska Memories is brought to you by the Nebraska Library Commission. If your institution is interested in participating in Nebraska Memories, see http://nlc.nebraska.gov/nebraskamemories/participation.aspx for more information, or contact Beth Goble, Historical Projects Librarian, or Devra Dragos, Technology & Access Services Director.