Abridged Edition 15, the latest print edition of the DDC, is now available!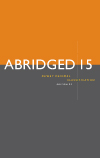 New features include:
Many new topics and significant updates to selected fields
A complete overhaul to the representation of groups of people
Elimination of dual headings and unbalanced spans
Cessation of partial abridgement of parallel notation
To learn more, view the archived webinar of the DDC Abridged 15 Sneak Preview, recorded on February 7, 2012.
Save money by ordering your copy of Abridged Edition 15 through the Nebraska Dewey Group Purchase.
The Nebraska Dewey Group offers discounted pricing on the print versions of the Abridged Edition 15 and the 23rd edition of the unabridged DDC, as well as the web-based, enhanced versions of the DDC database through WebDewey and Abridged WebDewey.
For all the details, including pricing and order forms, visit the Dewey Group website.